Monday President Ainlay and U-Sustain announced the winners of the 2012-2013 Presidential Green Grants. Eight projects, ranging from upgrading the bicycle facilities to research of pollution from jet engines, to use of beneficial insects as an alternative to pesticides were acknowledged in a ceremony in Feigenbaum Hall.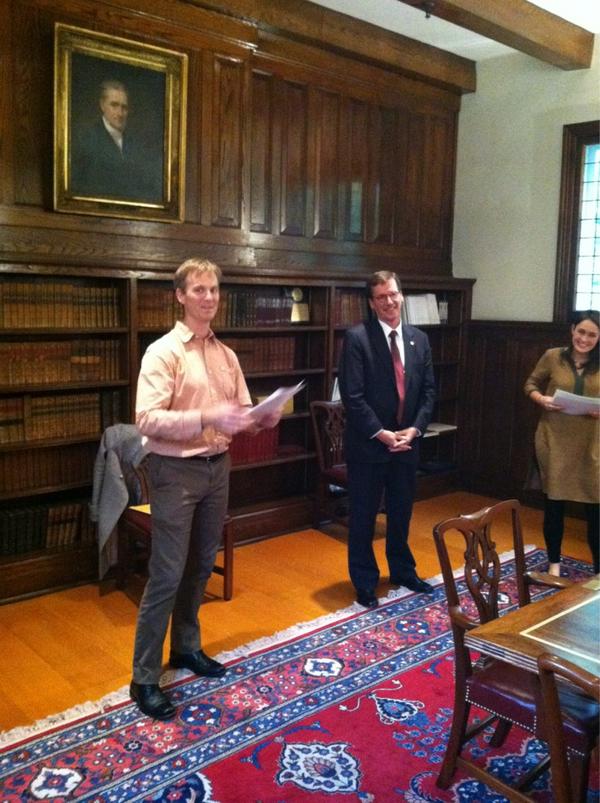 Winners included Livia Carroll, Kevin Skeuse '13, David Glasser, John Rieffel, Tom Heisinger, Mary Cornelia Pinkston '15, and Ralph Cueva '13.
Presidential Green Grants support initiatives that make College operations more sustainable or research projects designed to provide regional or global environmental benefits.
In the 5-year history of the Green Grant Program, more than $60,000 has been awarded to such on-campus projects as
Octopus' Garden, Campus Kitchens, and a variety of initiatives to reduce energy, paper, and other resource use. Funded research projects include the design of novel wind and solar technology and pioneering of the use of aerogels as a catalytic converter.
Green Grants funding is a result of the generosity of President Ainlay's Mellon-Hewlitt Discretionary Fund, and a Mellon Foundation Grant to Union College's Environmental Science, Policy and Engineering Program.